HypnoBirthing® Childbirth classes are designed and carefully structured in Five, 2½ hours each class for optimum learning. It is presented by Kong Choon Yen, a Certified HypnoBirthing® Practitioner/Childbirth Educator. Yen understands the difficulty parents face during their birth through her 7 years of experience teaching and supporting HypnoBirthing families and less prepared parents as a Holistic Birth Doula. She provides you and your partner resources, helps you navigate Singapore's hospital system, teaches the materials based on evidence-based birth information in an easy to understand manner.
Childbirth Odyssey's HypnoBirthing® Course includes: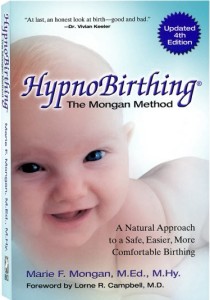 The newest 4th Edition HypnoBirthing® – The Mongan Method textbook with CD set, Rainbow Relaxation CD and class handouts.
Six components-natural childbirth education, relaxation techniques, Affirmations, HypnoBirthing Signature Breathing, Visualisation and Self-Hypnosis Natural Anaesthesia.
Weekly hypnosis sessions including Two Fear Release sessions
Evidence-based classes in a small group setting
Complimentary Butterfly Touch Massage for mother and baby session (Light touch therapy to expand life force within baby's body, promote growth and remove birth issues)
Class syllabuses – click the book
HypnoBirthing Natural Childbirth Class Commencement in 2019:
Group Classes

Class 1:
Natural Birth and Law of the Mind
Class 2:
Bonding / Preparing Mind
Class 3:
Preparing Body/Create Birth Plan
Class 4:
Fear Release-Labour of Love
Class 5:
Breathing Baby Down
 Saturday
 27 April (Full)
 4 May
 11 May
 18 May
 25 May
 
 1 June
 *15 June
 22 June
 29 June
 6 July
 
 13 July
 20 July
 27 July
 3 August
 10 August
 Sunday
 21 April (Full)
 28 April
 5 May
 12 May
 *26 May
 2 June
 *16 June
 23 June
 30 June
 7 July
 14 July
 21 July
 28 July
 4 Aug
18 August
 Thursday
 18 April
 25 April
 2 May
 9 May
 16 May
 23 May
 30 May
 6 June
 13 June
 *27 June
*Please take note of class dates as some classes are completed in 6-8 weeks instead of 5 consecutive weeks. If you are at least 34 weeks pregnant when the course begins or if your schedule does not allow you to complete the course in a stretch due to your travelling plan, please contact me for a special arrangement.
Saturday Lessons: 3.30pm-6.00pm
Sunday Lessons: 10.30am-1.00pm
Thursday Lessons: 7.00pm-9.30pm
Venue: The Mind Sanctuary, 10 Winstedt Rd, Block A #01-04, Singapore 227977
Investment: Five weeks of training and after class mentoring by phone and email through post birth
$650 per couple (Group-4 couples)
$1000 per couple (Private)
I am interested in signing up for HypnoBirthing class
Other prenatal classes and natural birth services:
Calming Baby– Caring your newborn baby with confidence $100.
Labour Tools – Comfort measures cum train your husband to be your Doula $100 (U.P. $150).
Special rate of $2050 when you sign up Deluxe Birth Doula Package. NUH birth at $2150.