HypnoBirthing® Childbirth Education provides comprehensive natural childbirth classes in Singapore, highly recommended by all hospitals in the country. HypnoBirthingChildbirth classes are designed and carefully structured in a Small Informal Group that provides you and your partner evidence-based birth information and practical birthing methods in an easy to understand manner. Through our childbirth preparation classes you will learn to prepare both mind and body for birthing with various HypnoBirthing techniques including weekly relaxation practice and Bonus hypnosis sessions of Fear release. A family-oriented birthing approach involves husband's active participation and gentle welcoming for your baby. Read more on HypnoBirthing, Frequent Asked Question or HypnoBirthing birth stories about our natural birth services. 
HypnoBirthing course is conducted in Five, 2½ hours each class presented by Kong Choon Yen, a Certified HypnoBirthing® Practitioner/Childbirth Educator, a HypnoBirth mom, a Birth Doula and an Infant Massage Instructor.
HypnoBirthing Textbook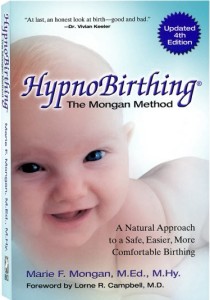 Including newest 4th Edition HypnoBirthing® – The Mongan Method textbook with CD set, Rainbow Relaxation CD and class handouts.
Small interactive classes – $650 per couple
Class syllabuses – click the book
Continuous support through phone, email and monthly HypnoBirthing Support
Complimentary Butterfly Touch Massage for mother and baby session (Light touch therapy to expand life force within baby's body, promote growth and remove birth issues) Ideal time to learn before baby turns 4 months old. This class is conducted on weekdays morning. Read more on Butterfly Touch Massage.
Complete your childbirth classes with:
Calming Baby– caring your newborn baby with confidence at only $750
Labour Too

l

s 

– Comfort measures cum train your husband to be your Doula at just $750.
Special rate of $1950 for birth support when you sign up Deluxe Birth Doula Package.
HypnoBirthing Group Classes Commence in 2018:
Saturday lessons from 3.30pm-6.00pm
Venue:  10 Winstedt Rd #01-04 Singapore 227977
Sunday lessons from 10.30am-1.00pm
Venue:  10 Winstedt Rd #01-04 Singapore 227977
Evening Classes from 7.00pm-9.30pm
Venue: Suntec TBA.
If you are at least 34 weeks pregnant when the course begins, please contact me for a special arrangement.
Group Class
Unit 1:

Building a Positive Expectancy

Unit 2: 

Bonding with your Baby/Preparing Mind & Body

Unit 3:

Getting Ready to Welcome your Baby

Unit 4:

Overview of Childbirth-Labour of Love

Unit 5:

Breathing Love, Bringing Life

Saturday
7 April
*21 April
28 April
5 May
12 May
19 May
26 May
2 June
9 June
16 June
30 June
7 July
14 July
21 July
28 July
Sunday
29 April
6 May
13 May
20 May
27 May
3 June
10 June
17 June
24 June
1 July
Monthly Support Session on Deepening/Fear Release/Breastfeeding (HB Students)
Saturday, TBA

RSVP is required: 9863 7867
*Please take note of class dates as some classes are completed in 6-8 weeks instead of 5 consecutive weeks.
HypnoBirthing Private Classes (Complete syllabuses)
Want some privacy or can't make it to the scheduled class? Partial or full private classes with personal attention are available. For inquiry, click here to use the Contact Form or call Yen at 6100 9863 or SMS to 9863 7867.
Complete Childbirth Preparation with:
Calming Baby 
Active Birth with Labour Tools 
Birth Support Package