HypnoBirthing® Childbirth classes are designed and carefully structured in Five, 2½ hours each class for optimum learning.
HypnoBirthing is presented by Kong Choon Yen, a Certified HypnoBirthing® Practitioner/Childbirth Educator. Yen understands the difficulty parents face during their birth through her 7 years of experience teaching and supporting HypnoBirthing families and less prepared parents as a Holistic Birth Doula,  She provides you and your partner resources, help you navigate Singapore's hospital system, teaches the materials based on evidence-based birth information in an easy to understand manner.
Childbirth Odyssey's HypnoBirthing® Course includes: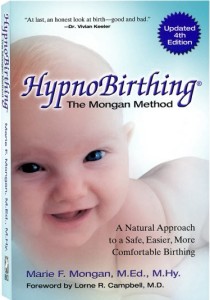 The newest 4th Edition HypnoBirthing® – The Mongan Method textbook with CD set, Rainbow Relaxation CD and class handouts.
Six components-natural childbirth education, relaxation techniques, Affirmations, HypnoBirthing Signature Breathing, Visualisation and Self-Hypnosis Natural Anaesthesia.
Weekly hypnosis sessions including Two Fear Release sessions
Evidence-based intimate classes in a small group setting
Five weeks of training and after class mentoring by phone and email through post birth
Complimentary Butterfly Touch Massage for mother and baby session (Light touch therapy to expand life force within baby's body, promote growth and remove birth issues)
Class syllabuses – click the book
HypnoBirthing Natural Childbirth Class Commencement in 2018-2019:
Group Class

Class 1:
Natural Birth and Law of the Mind
Class 2:
Bonding with your Baby / Preparing Mind
Class 3:
Preparing Body/Create Birth Plan
Class 4:
Fear Release-Labour of Love
Class 5:
Breathing Baby Down
 Saturday
29 December
5 January
12 January
19 January
26 January
9 February
16 February
23 February
2 March
9 March
23 March
30 March
6 April
13 April
20 April
 Sunday
23 December
30 December
6 January
13 January
20 January
 
27 January
*10 February
17 February
24 February
1 March
8 March
*24 March
31 March
7 April
14 April
 Thursday
22 November
29 November
6 December
13 December
20 December
 
3 January
10 January
17 January
24 January
31 January
*Please take note of class dates as some classes are completed in 6-8 weeks instead of 5 consecutive weeks. If you are at least 34 weeks pregnant when the course begins or if your schedule does not allow you to complete the course in a stretch due to your travelling plan, please contact me for a special arrangement.
Saturday Lessons: 3.30pm-6.00pm
Sunday Lessons: 10.30am-1.00pm
Thursday Lessons: 7.00pm-9.30pm
Venue: The Mind Sanctuary, 10 Winstedt Rd, Block A #01-04, Singapore 227977
Investment:
$650 per couple (Group-4 couples)
$1000 per couple (Private)
HypnoBirthing Private Classes (Complete syllabuses)
I am interested in signing up for HypnoBirthing class
Other prenatal classes and natural birth services:
Calming Baby– Caring your newborn baby with confidence $100.
Labour Tools – Comfort measures cum train your husband to be your Doula $100 (U.P. $150).
Special rate of $2050 when you sign up Deluxe Birth Doula Package. NUH birth at $2150.