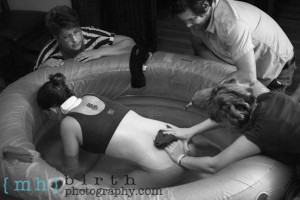 If you are giving birth in Singapore, confuse and not knowing what to expect during labour and birth or simply require an additional support, consider hiring a Birth Doula. Having a doula in Singapore has shown to improve birth satisfaction, birth outcome and ease the childbirth process.
What is a Doula?
Doula is a birth companion who acts as an emotional tranquilizer for the labouring woman and her partner . Birth Doula is mainly woman supports woman at birth as she has been through childbirth or a trained birth professional who is familiar with the hospital procedure and birth process. She supports expectant mom and her husband/partner in various aspects including and not limited to the following:
help you to navigate Singapore hospitals system so that you know what to expect in labour and birth
address your concern for labour and help you to expand your understanding in the natural process of birth
create a Birth Plan that suits your needs
relax mind and body through special breathing techniques, relaxation techniques, touch therapy, massage
suggest on ways to achieve a non medicated birth through suggesting positioning and repositioning
learn to understand your baby's need and assist you to welcome your baby gently into this strange new world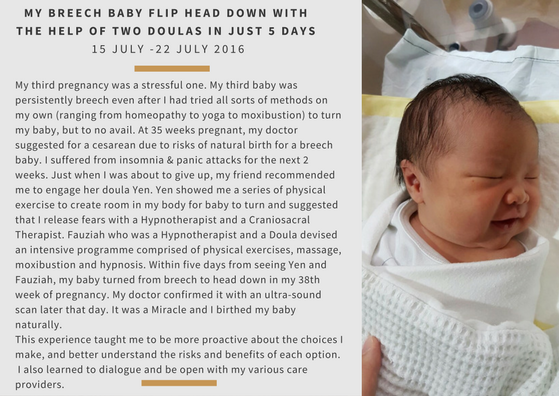 Birth Support Doula Service Package includes: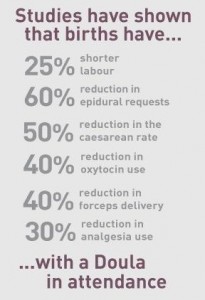 2 private prenatal visits
Birth Support during labour and birth
2 postnatal visits with the first postnatal visit at hospital or at home
Option for 2nd postnatal home visit or one session on Learn to Massage your Baby
Continuous support through phone and email
Free cranio assessment and treatment for newborn below 3 months old offered by Wellness Integrated to help baby achieve calmness and reduce colic.
Doula Service Package price is only $1300
Increase your chance of success in achieving natural birth with the right mindset, reduce fear through hypnosis sessions in HypnoBirthing classes, consider taking our Deluxe Doula Package which includes HypnoBirthing Childbirth Classes (complete five classes), total two  prenatal and one postnatal visits and birth support at only $1575. Read more here.
Doula & Calming Baby Package. Understand baby better and learn ways to calm your crying baby. Best learn before baby arrives.
Doula & Infant Massage Package. Enhance bonding after birth and helps baby adjust into this world.
For free consultation or meet up with our Singapore doulas, please contact Yen directly at 9863 7867 or click Contact Us.
Check out our Services and Classes