This workshop is suitable for Expectant Couples and Parents with Young Babies, planning to conceive to learn and talk about their stories.
Project 1001 is committed to provide babies a head start in life with craniosacral to release birth related issues including the effect of birth trauma.
It is presented in two parts:
Part 1. Giving Birth in Singapore – by Ms Kong Choon Yen, Certified HypnoBirthing Childbirth Educations, Birth Doula and Infant Massage Instructor.
Let's talk about birth. Yen will share with you her Doula's experience supporting parents at birth and what are the factors to the success and failure of your desire birth.
Part 2. Cranio Assessment for Babies-Ms Ms Adida Shahab, Biodynamic Craniosacral Therapist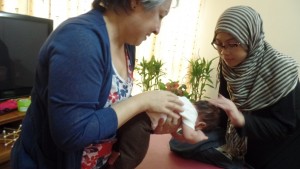 Relieve: Colic, Torticolis, Sleep issues, Breastfeeding & Latching issues
Achieve: Bonding, Relaxation and Calmness, Self-Regulation of Endocrine System that governs your hormones level, Become Resilient to Stress and Trauma
Date: Friday, 24 June 2016
Time: 2.30pm-5.00pm
Cost: Free
Venue: Eastpoint Green, Simei (Full address will be provided upon confirmation of your registration)
RSVP is required at least 24 hours prior to the event. Use the form below for registration. For inquiries, please contact Adida at 9742 6791 or Yen at 9863 7867.
EVENT RECORDING DURING THE WORKSHOP-By attending this free workshop, you consent to be filmed and/or photographed during the session and give permission to use your likeness, appearance and your voice for educational and promotional/marketing purposes by Kong Choon Yen and Adida Shahab. Photographs will be uploaded on Facebook to promote future session as part of our Holistic Pregnancy and Birth Support.