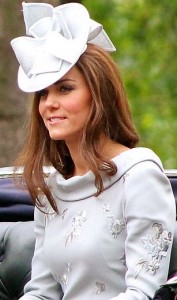 Does Kate Middleton choose HypnoBirthing because of the relaxing and "pain free" methods of birth or as the title of other post describes Kate Middleton Irks Older Royals by Rejecting Birthing Protocol?
There are many advantages of birthing a baby using HypnoBirthing®-The Mongan Method, It may be an unachievable dream birth for some who do not believe giving birth can be joyful, empowering, healthy and calm. Certainly Duchess of Cambridge knows what's best for her future child and she trusts her ability to achieve birth without drugs, just like Miranda Kerr, Jessica Alba, Tiffani Thiessen and many other celebrities. How can that be a crazy idea? It's a sensible idea.
What most urban ladies afraid of giving birth is the excruciation pain that they think they will go through. HypnoBirthing premise is that childbirth does not have to accompany with much discomfort although they do not guarantee it as a pain free method. While the pain is real, it is caused by fear. When there is unresolved fear present, it creates tension in the body, and thus, pain.
Perhaps what Kate Middleton wants is more than a comfortable pain free birth. She definitely understands what birth is. Transformation, empowerment, confidence and love. Love of a mother leads her into looking at ways to bring this special little person into this world in a healthy, fearless and joyful birth, providing a harmonious beginnings for her baby.
HypnoBirthing also brings the family together whereby husband is taking an active role in the birthing room support his wife and protect her space. After all, childbirth is a family event. Will Prince William be actively support Kate, Duchess of Windsor during her labor? Will she choose a home birth, water birth or a hospital birth?
Whatever her choice is, everyone will be much looking forward to the arrival of the baby.