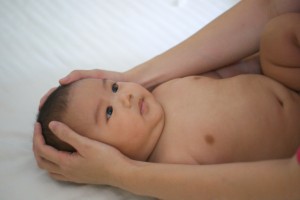 Butterfly Touch Massage is one of the techniques taught in Gentle Bio-Energetics developed by Dr. Eva Reich. It is a gentle form of light touch therapy that expands our life energy, promotes family bonding, relaxes tense muscles, calms the mind, heals birth trauma, promotes growth and overall improved well-being. This BTM is suitable for all age groups particularly beneficial to premature and newborn babies as babies' energy field is small as compared to that of older children.
Reasons for common trauma for babies:
Assisted birth such as cesarean birth, use of forceps, ventouse suction
Use of anaesthesia during labour and birth
Long labour due to the poor baby's position
Separation from mother after birth
Pricking of the heel due to jaundice
Suctioning of throat
* Please note that trauma is unique to an individual. What causes a traumatic experience for a person may not be traumatic to another.
Benefits to babies:
Promote relaxation and melt tension in the body
Reduce stress and colics in babies
Remove birth trauma and integrate the birth experience.
Stimulate healing properties and promote growth
Promote parent-baby bonding
Relax diaphragm muscle to resolve hiccups
In this session, Yen will share Butterfly Touch Massage strokes for you to bond with your newborn baby or young children to relax and promote growth. Space is limited. RSVP is required.
Shared by Kong Choon Yen who trained in 8 Days Gentle Bio-Energetics. Yen is undergoing certification to teach Butterfly Touch Massage.
Date: Thursday 9 January / 20 February / 19 March 2020
Venue: Blk 138, Simei St 1 #10-38, Singapore 520138 (Behind Metta Association)
Cost: $20 per pair of parent and baby / Complimentary for HypnoBirthing parents 
Should you need further clarifications, feel free to contact Yen at 6100 9863 or SMS 9863 7867.