My Journey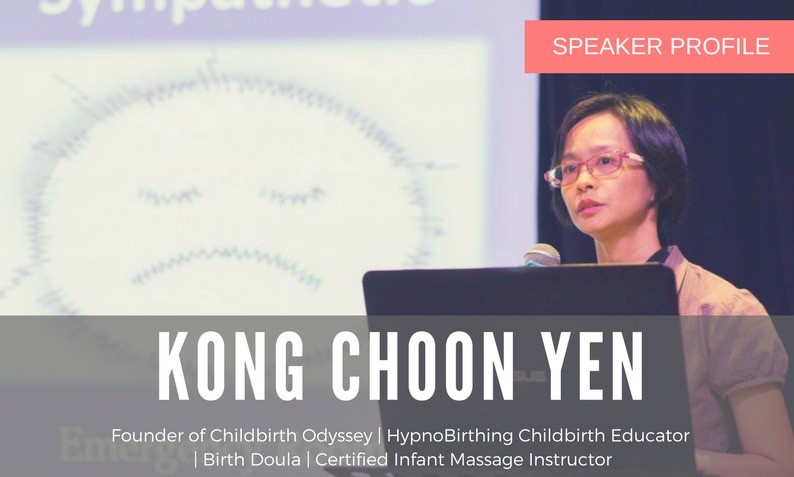 Hi! My name is Kong Choon Yen. Yen in short. I am an ordinary mother of two boys. My journey begins when I decided to prepare for a healthy pregnancy for a new life to grow in my womb. With that "clean" body, my mind is clearer too. That leads me into now a profession called a HypnoBirthing® Childbirth Educator, a Holistic Birth Doula and an Infant Massage Instructor, known to many as a Birth Expert.
Being a mother changed my priority in life and turn my life around. I learned from my past birth experience that I felt inadequate and helpless in my first birth, but an empowered and confidence experience for my second pregnancy to birth through a series of preparation even before conception to a total drugged-free birth. It was healing for me. It's a reflection of myself that brought me into holistic living and got my foot into the birthing industry since 2011.
What I think I do best
I help expectant couples like you to approach birth with confidence through a series of natural childbirth education with relaxation techniques and support throughout your pregnancy and the birth process, so that you can welcome your baby into your world in a safe, gentle and healthy way, leading to a positive birth and a harmonious beginning in life as a family.
HypnoBirthing-The Mongan Method brought light to me when I prepared for my second birth. It's my turn now to impart to you the Art and Joy of Birthing method that focuses on returning confidence to the labouring mother to trust her birthing instinct.  In this program, I dispel common myths of childbirth, eliminate fears related to the labouring process, bring your family together, get your husband/partner involvement to work with you as a team in your own birth. We won't forget your baby.
My role as a Birth Doula is to provide you with the kind of support caters to your needs, guide you step by step throughout the childbirth process including the postpartum period. I hope that with my calm presence and support, you and your partner feel more settle and focus on enjoying the birth process. When both partners are mentally prepared with the right mindset, we can achieve an unmedicated birth without fear so that you can focus on welcoming your baby into your arms fully alert, connected and with a sense of peace.
Each time I witness a couple achieve their natural birth plans and objectives, I feel a deep sense of fulfillment. It means, one more couple are going to spread a positive birth story to the world, and one more baby "landed" gently, and that we are one step closer to making Natural Birth the mainstream birth.
What else do I do?
It becomes clear to me as I serve families who are looking for a better birth, my life purposes appear to be:
To inspire you to empower yourself to take charge of your health and the health and well-being of your child.
Bringing Holistic Practitioners and families who are interested in the holistic living together, share and learn from each other during our meet up session in the Holistic Pregnancy and Birth Support Group.
My Vision
My vision is all babies come into this world whole and complete, without birth defect, birth injuries and birth trauma to begin their life with.
Certifications and Experience
• Certified HypnoBirthing® Practitioner/Childbirth Educator – HypnoBirthing® Institute
• Certified Birth Doula – Childbirth International
• Certified HypnoBirthing® Infant Massage Instructor – HypnoBirthing® Institute
• Certified Hypnotherapy Practitioner – Centre for Complementary Healing Studies
Certificate of Attendance
• Spinning Babies with Gail Tully, Founder of Spinning Babies – Body Alignment and Balance for Easier Birth
• Gentle BioEnergetic with Richard Overly at Gentle Bio-Energetics Institute – Restore life energy through verbal and touch therapy
• Sensory Integration Touch Therapy with Yonie Bonawi
• Birthing with Hypnosis – Advanced Doula Training with Denise Love
• Ego State and Hypno-Somatic-Bringing The Best out of Traumatized Client with Dr. Woltemade Hartman
• Pre and Peri-Natal Psychology from Somatic Perspective with Yiri Dollekamp
• Psych-K Basic, Advance and Facilitator Workshop with Ian Spicer
Contact Me
Click here.
Read more about my Journey into the Birthing Industry at My HypnoBirthing Story.